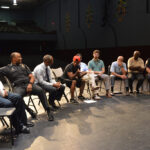 How are race relations in Decatur?
November 21, 2016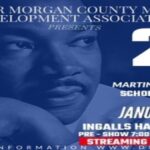 2022 29th Annual Martin Luther King Jr. Scholarship Awards and Unity Breakfast – IN PERSON AND STREAMED!
January 4, 2022
2021 28th Annual Martin Luther King Jr. Scholarship Awards and Unity Breakfast – A Virtual Event!
DMDA proudly presents the 2021 28th Annual Martin Luther King Jr. Scholarship Awards and Unity Breakfast as it's first, virtual-only event! Due to the current COVID-19 pandemic, DMDA made the decision to take it's highly anticipated, largely attended annual event virtually this year. A premier event in Decatur-Morgan County, this year's theme is diversity and inclusion. As a community, we promote and believe we are stronger together.
Although not being able to meet in person this year has been disappointing, doing a virtual broadcast has afforded the opportunity to broaden the event in scope with a larger variety of speakers and entertainment. This year's event will start with a pre-show that will feature an amazing breakfast cooking segment with Chef Noble of The Noble Chefs, great music by The Kelley O'neal Band, and special greetings from many local leaders. The main show includes special guest appearances from Governor Kay Ivey, State Senator Arthur Orr, and Mayor Tab Bowling. Also, the breakfast will feature Crystal Brown, V.P. of Business and Residential Development for the Decatur-Morgan County Chamber of Commerce, Pastor George Sawyer, founder and pastor of Calvary Assembly of God, and Pastor Carlton Byrd, senior pastor of Oakwood University Church and founder of Breath Of Life TV.
The unity breakfast will also have special musical performances by Black Women in Jazz Awards Best Jazz Artist winner- Toni Redd, from Tyler Perry's Madea's Big Happy Family and the Steve Harvey Show, Luther Vandross tribute artist- Danny Clay, former lead singer with the famed jazz group Pieces of a Dream and UK Soul #1 chart-topping artist- Tracy Hamlin, and former Bebe &CeCe Winans saxophonist, currently with the Temptations, The Four Tops, and the Ojay's- Kelley O'neal and the Kayoband.
Guest appearances will continue with a special segment from sports legends Jerraud Powers, NFL cornerback for the Indianapolis Colts, Arizona Cardinals, and Baltimore Ravens, Gary Redus, MLB player for the Cincinnati Reds, Philadelphia Phillies, Chicago White Sox, Pittsburgh Pirates, and the Texas Rangers, and four-time Super Bowl champion, three time Pro Bowl, Pro Football Hall of Famer, Pittsburgh Steelers' John Stallworth.
In addition, DMDA will honor two individuals who have made significant contributions to the local area. The 2021 Humanitarian Award honorees will be Jerald Gaines from Nucor Steel, and Funnel Cake Queen owner Kenya Congress.
And yet, the star of the breakfast will be the students, who will be awarded over $40,000 in scholarships through public donations and private corporate partnerships. The goal of helping underserved students is the main mission of the unity breakfast and will be highlighted through the scholarships provided under the pillars of DMDA – jobs, housing, health, justice, and education. The opportunity to donate to this cause will also be available through a variety of outlets including dmcmda.com, cash app ($DMCMDA), paypal, text to give, and P.O. Box 5018 Decatur, AL 35602
The 28th Annual Martin Luther King Jr. Scholarship Awards and Unity Breakfast can be viewed:
Monday, January 18
Pre Show- 7:30 a.m. Main Show – 8:00 a.m. at:
Facebook: https://www.facebook.com/dmcmda
YouTube: Decatur Minority Development Association
WYAM TV51 (Spectrum CH. 20 and WOW Cable)
and here at https://dmcmda.com/
Don't Miss It!!!