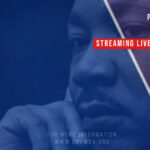 2021 28th Annual Martin Luther King Jr. Scholarship Awards and Unity Breakfast – A Virtual Event!
January 14, 2021
2022 29th Annual Martin Luther King Jr. Scholarship Awards and Unity Breakfast – IN PERSON AND STREAMED!
GET READY!!! DMDA proudly presents the 2022 29th Annual Martin Luther King Jr. Scholarship Awards and Unity Breakfast HYBRID EVENT!!! Due to the ongoing COVID-19 pandemic, DMDA will present its highly anticipated breakfast as an in-person INVITATION ONLY (with very limited capacity) affair – streamed live on Facebook and Youtube. A premier event in Decatur-Morgan County, this year's theme is "LOVE WINS". The sky is the limit as to what we can accomplish when we show love towards our fellow man and all aspects of our community! LOVE WINS EVERY TIME!!!!
DMDA will observe COVID safety protocols during this event including social distancing and temperature checks. Masks will be REQUIRED!
Although limited in attendance, this year's hybrid event will be no less spectacular in scope with a large variety of speakers and entertainment. This year's event will start with a pre-show that includes special greetings from many local leaders, great music by the Kelley O'neal Band, and interesting Martin Luther King, Jr highlights and trivia. Our main show will include special guest host WAFF 48 anchor Margo Gray, Alabama State Senator Arthur Orr, Mayor Tab Bowling, Decatur Police Chief Nate Allen, Pastor Carlton Byrd, President of the Southwest Region Conference of Seventh-day Adventist Church and many other community and civic leaders.
The unity breakfast will also have special musical performances by gospel superstar, formerly of Myron Bulter and Kirk Franklin, currently Pastor of All Nations Worship Assembly-Huntsville Candy West, young singing sensation and daughter of grammy-winning producer Kelvin Wooten, Kaleah Wooten, national Gospel Music Workshop Of America songwriter, director and Decatur native Ricky Miller and the Shift, former Bebe &CeCe Winans saxophonist, currently with the Temptations, The Four Tops, and the Ojay's- Kelley O'neal and the Kayoband, and more to be announced!
In addition, DMDA will present the 2022 Humanitarian Award. This honor will highlight the individual who has made significant contributions to the local area.
And yet, the star of the breakfast will be the students, who will be awarded over $40,000 in scholarships through public donations and private corporate partnerships. The goal of helping underserved students is the main mission of the unity breakfast and will be highlighted through the scholarships provided under the pillars of DMDA – jobs, housing, health, justice, and education. The opportunity to donate to this cause will also be available through a variety of outlets including dmcmda.com, cash app ($DMCMDA), paypal, text to give, and P.O. Box 5018 Decatur, AL 35602
The 29th Annual Martin Luther King Jr. Scholarship Awards and Unity Breakfast can be viewed:
Monday, January 17, Ingall's Harbor, Hwy 20, Decatur, AL.
Pre Show- 7:00 a.m. Main Show – 7:30 a.m. at:
Facebook: https://www.facebook.com/dmcmda
YouTube: Decatur Minority Development Association
and here at https://dmcmda.com/
Don't Miss It!!!